AZ Industries Pistol Magnets offer a safe, easy way for those with concealed carry permits to store and quickly access their firearms. This powerful tool allows you to easily store pistols, knives, magazines, and even rifles while preventing dangerous gun spin or damage to your belongings.
The slim, easy to install design of the Pistol Magnet allows you to place it in a myriad of locations. Wherever you want to keep your gun, the Pistol Magnet will help you put it there. Here are just a few places you could install it:
MAGNET STORAGE IN YOUR VEHICLE
Depending on the layout of your vehicle, there are a variety of places the Pistol Magnet could be installed. Its strong grip will keep your gun secure on even the bumpiest country roads. Place it on your center console, perhaps, if you are right handed. Or maybe your driver side door if you're left handed. If you want something a little less visible, consider putting it inside your glove compartment or under your seat.
MAGNETIC ASSEMBLY AND MOUNTING ON A WALL
By placing the magnet on a stud, or using strong metal anchors, you can open up vast possibilities for where to store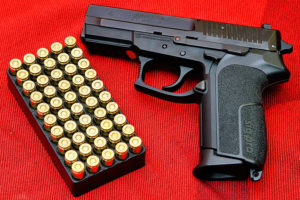 your firearm. Conceal it behind a frame with a deep back, or just inside your doorway for easy access. Maybe you are tall and you want to put it where only you can reach it? The Pistol Magnet will let you do that.
FIREARM STORAGE IN A HOME SAFE
Sometimes the storage provided inside a gun safe is a little lacking, especially for smaller items like magazines.
Installing a Pistol Magnet, or several, allows you to fully customize your favorite safe so that it works for you. Use it to organize your magazines, your pistols, whatever you like. You could even buy small metal containers to put smaller items in and organize them by hanging them on the Pistol Magnets.
The versatility of AZ Industries Pistol Magnet means that what you can do with it is all up to you, and we'll be sharing a few more ideas in our next post. Be sure to check out the full specifications of the Pistol Magnet here.