We're back with a few more ways for you to use the AZ Industries Pistol Magnet in your home or office to store your gun if you have a concealed carry permit. Be sure to check out our last post so you get the full list of places to use this versatile product.
DESK STORAGE OF FIREARMS
Desks provide a myriad of hiding places for storing your firearms. The more intricate your desk, the more possibilities there are for where to install the Pistol Magnet. Under the desktop is, of course, one obvious option, but there are plenty of others. If your desk has flat sides or legs with flat sides you could install the magnet there. Maybe your desk has some built-in shelves or cabinets that could provide convenient little nooks to tuck your gun away. It all depends on what sort of desk you have in your home or in your office.
BEDROOM FURNITURE INSTALLATION
Even the simplest bed frames can provide plenty of places to install the Pistol Magnet. Behind or underneath your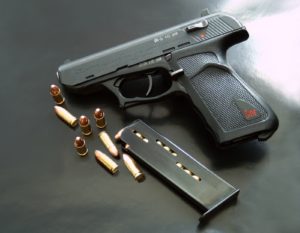 bed's headboard can provide easy and immediate access to your weapon should you need it. Under the bed frame is another top location for installation of our magnetic assembly that provides quick access. If you have a more intricate frame you could install the magnet inside a drawer or an attached nightstand.
INSTALLATION ON WALL UNIT SHELVES
If you want to keep your firearm somewhere accessible, but a bit more hidden, shelves provide many great opportunities to do just that. Consider installing the magnet on the back of the shelf, and placing books in front of it to hide it from view. If there is a large enough gap between the shelf and the wall you could also install the magnet there.
The AZ Industries Pistol Magnet allows you to store your gun upright or on its side, and you can even store larger rifles with it by using two magnets. This versatility of function paired with the variety of installation options opens up an almost infinite number of potential uses for the Pistol Magnet. Wherever you want to put it, it can go.
To learn more about the AZ Pistol Magnet, and to purchase your own, visit our products page.