FOD stands for Foreign Object Debris, meaning any object—big or small—that is in an area it does not belong. These can occur in many businesses, from manufacturing warehouses to airports. This debris can pose a risk to a business' products, workplace and consumer safety. Eliminating these issues is an important and extremely necessary part of running a business that is secure for everyone involved. To eliminate this issue it is important to understand how FODs occur and the locations they are found.
Personnel and Workplace Safety
If your workers are in the wrong place at the wrong time, they qualify as an FOD. A worker could get sucked into an engine, or fall into a piece of machinery and be seriously injured if not killed.
Animal Safety
We've all heard the horror stories about birds getting sucked into the engines of planes and bringing them down, seriously injuring or even killing the passengers. However, animals can pose other dangers depending on your industry. Animal dander and droppings can pose serious health and safety threats, as well as cause damage to equipment.
Tools
If tools are not properly accounted for each and every day, if not several times a day, a simple screwdriver accidentally dropped on the runway could cause serious damage to any equipment that may run it over.
Improper Hardware Storage
Similar to tools, even a small piece of hardware such as a single screw or nail can cause serious damage to employees. One little screw sucked into and tossed around an aircraft engine can cause immense and expensive damage to that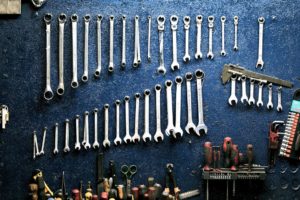 engine. Such tiny debris can be much harder to account for, allowing them to pose even more of a threat because they are harder to find and deal with. This is why equipment such as magnetic sweepers are so important.
Small Rocks
Rocks, even if they are small or not sharp, can easily be kicked up into equipment or sucked into equipment causing damage. Larger ones can pose safety hazards as well, causing workers to trip and injure themselves among other issues.
Dust & Ash Damage
Ash especially is a serious threat to both personnel and equipment, though dust poses a threat as well. Both can cause permanent damage to your business, or contaminate your products.
These are just a few broad categories of FODs. Take the time to research what FODs may affect your specific business and what safety precautions can be put in place to keep you, your business, your customers, and your employees safe.