Arkansas CNC Machining
Through the use of our new Haas VF-3 Super Speed Vertical Machining Center, AZ Industries now offers CNC machined parts in Arkansas for industries requiring component parts that are high precision & close tolerances.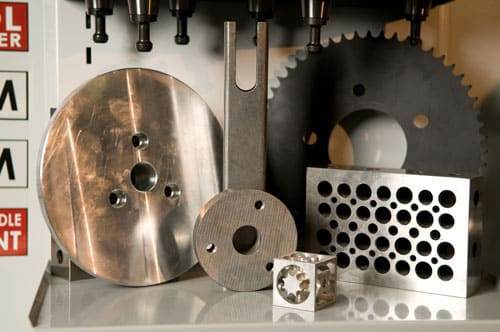 Are you tired of dealing with foreign suppliers who do not perform or deliver as promised?
At AZ Industries, we pride ourselves on providing superior service and custom parts to our customers. Our in house Arkansas CNC Machining offers excellent turn-around time, competitive pricing, and absolute top-notch quality.
When you work with AZ Industries, you work with a 100% American company where everything is made in the USA. All of our operations from Arkansas CNC machining, magnet manufacturing, water-jet cutting to shipping and customer service are located under one roof.
Prototype through production quantities, we deliver the highest quality custom parts with short lead times & exceptional quality.
We are easy to work with. Everyone you work with here, from the owner, to our general manager, to our customer service representatives – each and every person at AZ understands the importance of exceeding your expectations when you order from us.
Our machine shop is your one stop shop for Arkansas CNC Machining, custom parts, and magnetic assemblies.
Haas VF-3 Super Speed Vertical Machining Center
Machining Travels 40″ x 20″ x 25″ (X,Y,Z)

High Speed Machining Capabilities

30 Hp, 12,000 RPM Spindle

Through Spindle Coolant Capabilities

Renishaw Probing Capabilities

Full 5 axis machining capabilities, utilizing Haas TR210 Rotary Table
Bringing together the latest in CNC machining technology along with the tried and true machining techniques of years passed, AZ Industries takes pride in our ability to satisfy our customers every need.
Additional Capabilities Include (but are not limited to)
Surface Grinding

Automated Band Saw Cutting
Vertical Mill

Plastic Injection Molding
Magnetizing

Special Assemblies