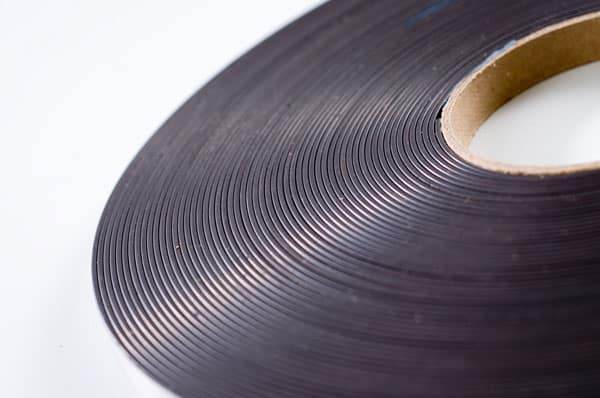 Flexible Magnets
Flexible magnets are made from material that is bendable and can be cut into a variety of shapes. It is the most pliable permanent magnet material and is designed for applications where not too much strength is required. These flexible magnets are most commonly found in the forms of strips and sheeting. Flexible magnetic materials are low in cost and can be bent, twisted, coiled, die cut, or machined into almost any shape without loss of magnetic energy.
Flexible Magnet Applications
Flexible Magnetic Strip
Our magnetic strip is available in plain or with different surfaces. Choose vinyl or add foam. Create magnetic tape by adding indoor or outdoor adhesive. Our magnetic strip and magnetic tape will cut cleanly and easily.
Magnetic Strip Specifications
Standard thicknesses range from .025 inch to .250 inch. Standard widths are .500 inch, .750 inch, 1 inch, 1.500 inch, 2 inch, and 3 inch. 4 inch is also standard for certain thicknesses.
Magnetization Options
We use multi-pole magnetization for our standard magnetic strip and magnetic tape. Standard energy or high energy. Other magnetization options are available upon request such as: conventional through width, conventional through thickness, and two poles on each face. Match pole magnetization also available.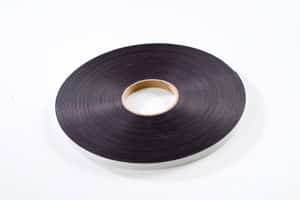 Our standard sizes for magnetic strip or tape
Also available in up to 200 foot rolls depending upon the thickness.
.060 x 1/2-inch x 3 feet P/N 115-99

.060 x 1/2-inch x 10 feet P/N 115-98

.060 x 1/2-inch x 100 feet P/N 115-98B

.060 x 3/4-inch x 3 feet P/N 115-102

.060 x 3/4-inch x 10 feet P/N 115-101
.060 x 3/4-inch x 100 feet

.060 x 1-inch x 3 feet P/N 115-104

.060 x 1-inch x 10 feet P/N 115-103

.060 x 1-inch x 100 feet P/N 115-103B
Flexible Magnetic Sheeting
Our magnetic sheeting comes in a variety of thicknesses ranging from .007 inch to .060 inch. Magnetic sheeting is available with printable laminates, adhesives or plain.
We provide magnetic sheeting for many printing methods including screen, digital, flexo, offset, and inkjet. Standard sizes available for quick shipment are 24.375 inch width and .012, .015, .020, and .030 inch thicknesses. Available in 25, 50, and 100 foot rolls.
Choose from white matte vinyl, white high gloss vinyl, color vinyl, paper, polypropylene, and indoor or outdoor adhesive.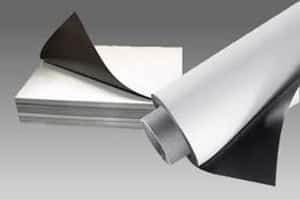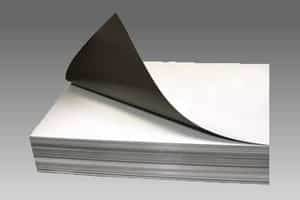 Available Options
High energy on thicknesses .030 inch and over.

Magnetized on both sides.

Choice of paper, vinyl, and polypropylene laminates.
Choice of indoor, outdoor, free-film and foam adhesives.

Maximum sheet width of 27 inch depending on thickness and laminate.